Frogs, Snails and Puppy Dog Tails - Boy Bedroom Inspiration September 16 2014,

0 Comments
From sports to dinosaurs and everywhere in between, toddler boy bedrooms can go in a multitude of directions. Their interests can spark some of the best ideas and many times their toys can become their decor as well. You can go bold and over the top, or simple (i.e. easy to change when that
phase
runs out). Either way, boy bedrooms can be a lot of fun. Here is some inspiration for your boy's bedroom design.
Sports Galore:
Focus on one team or a certain sport. You can go as detailed or as simple as you prefer. Either way will make a statement. Lockers, team decor, sports balls and memorabilia can add a lot to the design but can also overpower, so be cautious.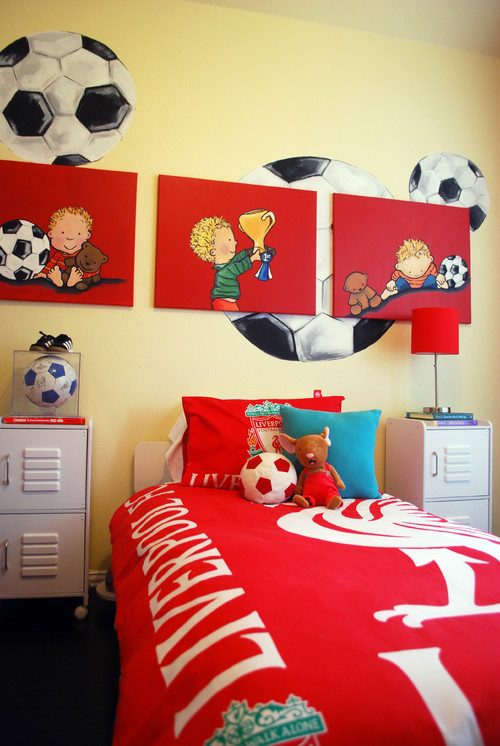 Take me to Space:
What kid doesn't love space? The planets, stars and asteroids are very enticing to a young boy. Bright colors, fun and engaging; a space bedroom is perfect for that boy who wants to blast off.
On the Road:
From firetrucks to monster trucks, boys love things that travel. Stick to one type of car, truck or plane. Or mix them and have a room full of transportation.
Lego Action:
Something about building with Legos, sets a boy free. If your boy is into Legos, why not take it to the next level with a Lego room. Bright colors and a fun atmosphere will inspire your little one. Be sure to have an area for building with the blocks as well to complete the room.
Dinosaurs:
The roaring. The growling. The claws. Dinosaurs bring out the boy in all of us. The beauty of dinosaurs is you can design it in a more muted tone or create a bright, playful room. Dinosaur rooms are a great example of using their toys for the decor on tables and shelves. Just make sure they still have a place to organize the others or it will look too crowded and messy.
There are many other options for your boys room. Use your imagination and follow their interests and you will create a great room that's playful and fun while functional.